Mobus – delivering quality that stands out for 15 years.
February 21, 2022
0 Comments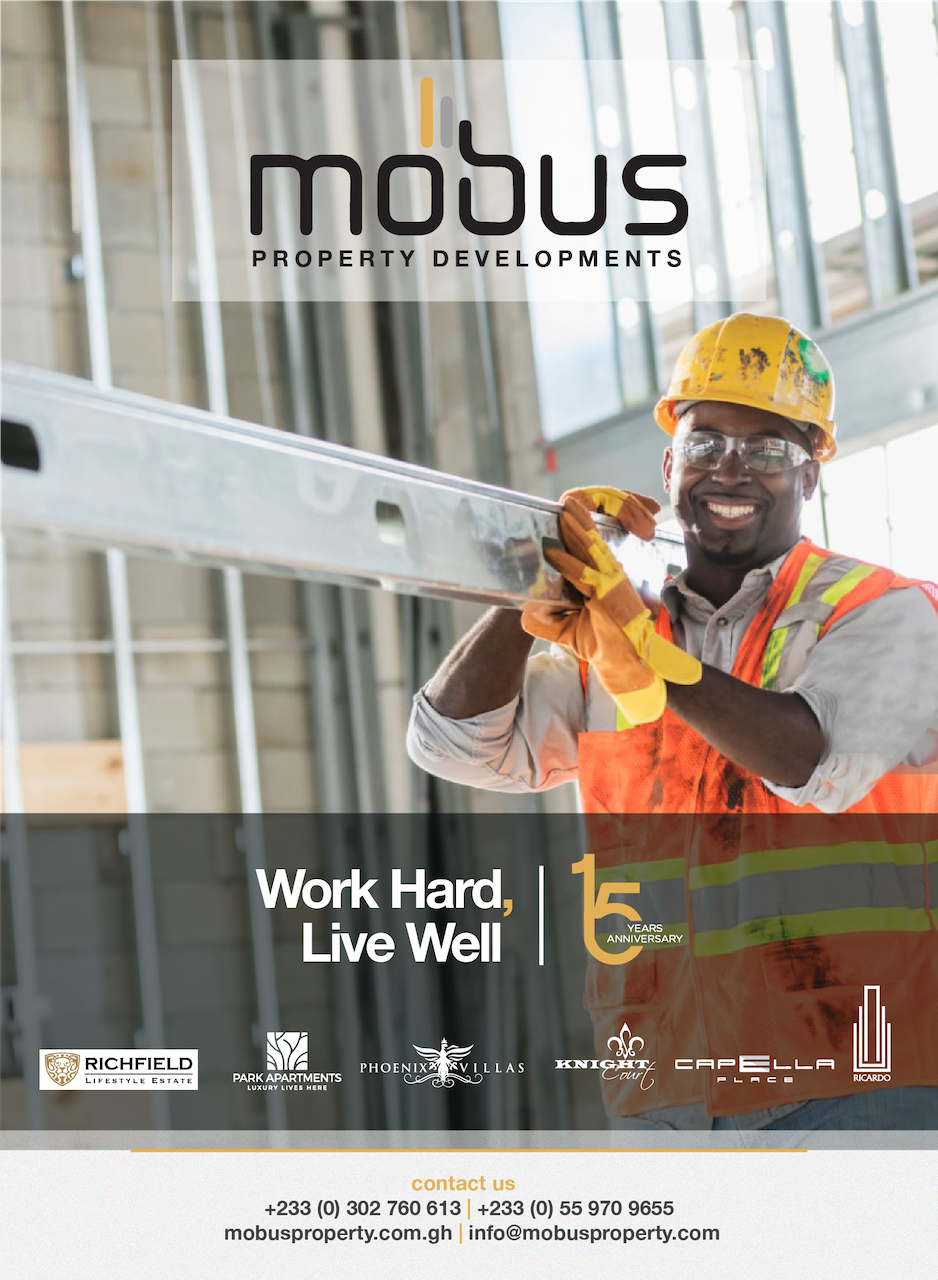 As a privately held real estate company, Mobus strives to deliver exquisitely designed homes that offer a safe and wholesome living experience centred on delivering value to our homeowners and stakeholders. Since the company's inception in 2007, Mobus Property Developments has completed four residential developments in prime Accra, namely Knight Court (Cantonments), Capella Place (East Legon), Phoenix Villas (East Legon), Richfield Lifestyle Estate (East Legon Hills); with two more – Park Apartments in Cantonments and the second phase of Richfield Lifestyle Estate – due for completion in 2022.
Although our portfolio goes beyond residential property development, into commercial properties, property management and property investment, the Mobus brand has become synonymous with high-quality and beautifully designed homes that stand out.
The Mobus dream is big; our vision to become the foremost real estate institution in Africa propelled us to open a branch in Nigeria where our sub-company, Mobus Nigeria has under its belt, River Park Estate –the largest residential development in Abuja –with two more developments underway. Mobus strives to bridge the knowledge gap in the real estate industry through end-to-end skills proficiency ranging from land identification and acquisition, financing, planning, construction, resource management, real estate advisory, brand marketing and property management.
The COVID-19 pandemic impacted several businesses and individuals in an unprecedented fashion. It set into motion, a 'new normal', prompting a shift in our way of living as society, and in the way businesses such as ours, operate. Mobus has been fortunate to ride the wave with the hard work and support of our dedicated staff, as well as the commitment and unwavering support of our customers. Innovation, creativity, and flexibility became our new guiding force in ensuring we remained customer-centric in our business dealings, especially during the pandemic. We incorporated more digital tools into our operations which enabled us to connect with our staff, customers, and business partners, allowing business to flow seamlessly.
Mobus is continuously striving to provide the best living experience for its customers and practices strict discretion by only investing in projects with sound economic fundamentals. Customers who purchase a Mobus home for investment purposes can therefore be assured of value. Our strategic partnerships ensure we work with companies and individuals with complementary skills and resources who also align with our values of integrity and honesty. Our market-centric approach allows us to tailor world-class designs and practices to meet the needs of the burgeoning African economy. With a team of experienced staff and a significant property investment, Mobus is well-positioned to capitalize on the growing demand for premium property.
As a Ghanaian-owned real estate company, it has been heartwarming to see the impact Mobus has made on the real estate market in Ghana. After six developments, two cities and two countries, Mobus is grateful to have the opportunity to celebrate its 15th year of operations in Ghana with the launch of The Monarch and The Letitia. The Monarch will be the 4th apartment development by Mobus Ghana, the company's first residential development in the Airport Residential area and the 7th development in Accra overall. The Letitia which will be our 3rd townhouse development will be launched in the latter part of 2022 alongside The Monarch both in Airport Residential Area.
Visit the Mobus website www.mobusproperty.com.gh for more information.